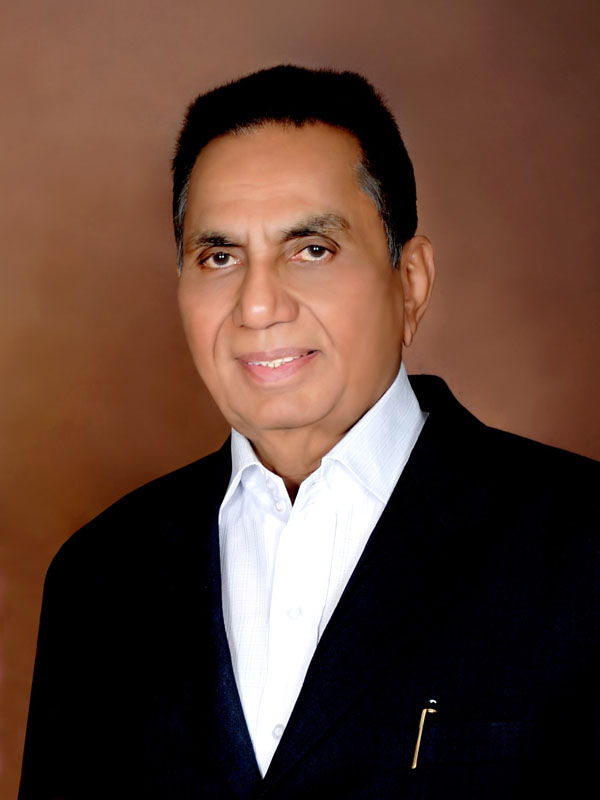 Dr. R. N. Shetty
A vision is more than a dream
Powered by passion and guided by thinking it carries the promise of making the dream into reality. Dr. R.N.Shetty was a great visionary. The myriads of Engineering marvels, Hotels and Educational institutions are standing testimony of his dreams that have been reality. Chairman of the R N S Rural Polytechnic, is a very well known figure in Karnataka in the field of civil engineering, constructions & quality education. He's successfully undertaken and completed many prestigious contracts in Karnataka. He is known for his time-bound achievements and quality. A vision that is rare in zeal and precise in conception and implementations.
R N Shetty Trust
Being a religious person Sri. R.N.Shetty has devoted a great deal of time and money for charity projects. Many temples, Educational institutions and community service related projects in Karnataka and elsewhere have been revived by Sri. R.N.Shetty. R.N.Shetty, Trust a non-profit making organization has been set up exclusively for helping the needy students and educational institutions. Trust ran following educatoinal institutions
R.N.S. Nursing School, Murudeshwar
RNS Infrastructure Ltd.
Founded in 1961 as a partnership firm, it marked the beginning of the R.N.Shetty Group. The firm was converted into a Private Limited Company in the year of 2003. Today the civil projects executed by the company represent some of the finest in the country. The company is specialist in the execution of Tunnels, Irrigation Projects, Bridges, Power Projects, Building, Dams, Reservoirs, Highways and many more..
RNS Motors.
In 1995, RNS Motors, a unit of R.N.Shetty and Company was established in Hubli. They are the authorized dealers for M/s. Maruti Udyog Ltd. It is located on a prime land at Unkal on Pune-Bangalore National Highway. In recognition of the excellent performance at Hubli, Maruti Udyog Ltd., awarded new dealership at Bangalore City in 1998. RNS Motors has always been committed to providing its customers unstinted quality services, and these endeavors have been testified by accrediting them with the ISO9002 Certificate more..
Naveen Mechanised Construction Co. Pvt. Ltd.
In 1967 R.N.Shetty took over the Company and by his untiring efforts and guidance the Company successfully executed several Projects for Karnataka Power Corporation Ltd., Konkan Railway Corporation Ltd., Karnataka Neeravari Nigam Ltd., Krishna Bhagya Jala Nigam Ltd. and other Government and Private Institutions.
Murudeshwar Ceramics Ltd.
Murudeshwar Ceramics Ltd., the leading manufacturers of Ceramic and Vitrified porcelain floor and wall tiles in India was incorporated in the year 1983. The construction of the factory was completed in record time and the production of "NAVEEN" Brand Ceramic tiles began within thirteen months from the day the foundation stone was laid. The commercial production started in year 1988 with an installed capacity of 12,500 tons per annum of Ceramic tiles. Later in 1993-94, the company introduced new range of floor tiles called Vitrified Porcelain Tiles with a trade name "NAVEEN DIAMONTILE".more..
Naveen Hotels Ltd.
Naveen Hotels Limited was incorporated in the year 1975. Naveen Hotels Ltd. have contructed a 5 Star Hotel at M.G.Road, Bangauru which has been leased to the Taj Group of Hotels and is known as Taj Residency. Naveen Hotels Ltd. has constructed 'Hotel Naveen' on the banks of the enchanting Unkal lake on Pune-Bangalore road National highway in Hubli. Murudeshwar, which is located on the shore of the Arabian Sea, is fast developing into Tourist spot; "Naveen Beach Resort" and R.N.S Residency with 90 Centrally Air-Conditioned rooms, Health clubs, swimming pools, golf stadium.more..
Naveen Structurals and Engineering Co. Pvt. Ltd.
The Company was incorporated in the year 1981. The Company is specialized in skilled fabrication works such as shuttering, silos, crest gates and many other specialized structure's. The company's workshop at Hubli is highly sophisticated and equipped with state-of-the-art equipment and machinery.
Murudeshwar Power Corporation Ltd.
The Company was incorporated in 1993; the Company has established a Bulb Unit with a capacity of 12MW at Narayanapura Dam Left Bank Canal and as per Power Purchase Agreement the entire power generated is supplied to KPTCL/HESCOM. In Global Investor's meet, the Karnataka Govt. has given permission for establishing a Mini Hydel Project across Kali River at Dandeli. The project is under progress.